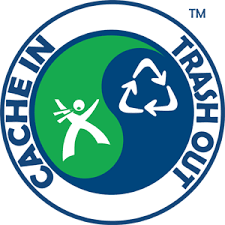 Cache In Trash Out® is an ongoing environmental initiative supported by the worldwide geocaching community.
Since 2002, geocachers around the world have been dedicated to improving parks and other cache-friendly places. Through these volunteer efforts, we help preserve the natural beauty of our outdoor resources! Geocachers around the world celebrate International Cache In Trash Out weekend annually by hosting and participating in Cache In Trash Out Events in their local area. Events might be focused on litter clean-up, removal of invasive species, revegetation efforts or building trails. Together, we make an enormous positive impact. Did we mention that we also have a bit of fun while we're at it?
The 14th Annual Cache In Trash Out Weeks are scheduled for April 16-24 and September 17-25. All the April events are now a thing of the past. Watch this space for the details of September CITO events as they are published.
| | | | |
| --- | --- | --- | --- |
| 16 April @ 08:30 | East London | GC6CWYR | Umtiza NR trail clearing CITO |
| 16 April @ 09:00 | Durban | GC6DY8R | Cachers vs. Plants |
| 16 April @ 09:00 | Pretoria | GC6EFN4 | International CITO Week April 2016 - Pretoria |
| 16 April @ 11:00 | Roodepoort | GC6BJPV | Mighty C.I.T.O |
| 22 April @ 16:20 | Somerset West | GC6EV02 | Paardevlei CITO Event |
| 23 April @ 08:00 | Port Elizabeth | GC6F309 | Another CITO, Yes Again! |
| 23 April @ 14:00 | Durban | GC6EQKA | Fyfe Park CITO 2016 |
| 23 April @ 19:00 | Simon's Town | GC69MTN | Picnic and CITO at Betsy Big Gun 2016 |
| Saturday 17 September @ 09:00 | Durban | GC6Q3RC | Crowned Eagle's Friends |
| Saturday 17 September @ 09:00 | Pietermaritzburg | GC6R9NH | St David's CITO |
| Saturday 17 September @ 10:00 | East London | GC6R5H0 | Sunken Gardens Clean Up |
| Saturday 17 September @ 10:30 | Durban | GC6R88G | A Messy Little Park CITO |
| Saturday 17 September @ 14:00 | Port Elizabeth | GC6R8VH | Days of the year: Coastal Cleanup Day |
| Sunday 18 September @ 10:00 | Pretoria | GC6RE2Z | International CITO Week September 2016 - Pretoria |
| Friday 23 September @ 13:30 | Cape Town | GC6RC8F | Paardevlei CITO |
| Saturday 24 September @ 13:30 | Port Elizabeth | GC6R823 | Alien Cut Rock Plants |
| Sunday 25 September @ 12:00 | Johannesburg | GC6PYCC | Conservancy Clean Up #4 |