GEOCACHING IN INDIA
Since 2012, I have had the privilege to visit India several times as my parents are diplomats there. Fortunately I discovered geocaching just before my first visit and was able to explore many places through our awesome hobby. Since the Geocaching roadtrip is on the go, I thought I'd share my experiences of my Indian geocaching adventures and finding 47 Indian caches!
India is a very interesting place. The cities are heavily populated and the population is 1.2 billion people (compared to South Africa's 53 million)! This obviously makes geocaching very challenging both for the seeker and hider. With so many eyes, caches regularly go missing and owner maintenance doesn't occur as frequently as it should. Currently India has about 215 caches (to put this into perspective India is 2.7 times larger than South Africa and yet South Africa has about 55 times more caches! Also, there are very few Indians that are geocachers. Many newbies start off but without community support and the low number of caches, most (if not all) stop caching. Most caches are placed by tourists with local maintainers although often these local maintainers don't actually actively fix up caches.
My parents live in New Delhi so that was the place where my first finds were. At that time New Delhi probably had the most caches of any urban area (about 25)! I visited in June 2012 during the summer when temperatures are between 40-50°C and minimums are around 30°C (it always feels like an oven!). During my visit of around 3 weeks I managed to find 22 caches in all sorts of locations – from a train museum, in parks with ancient monuments, ancient forts, a step well and in forest/veld areas to name a few. These were all traditionals and the majority were micro caches obviously.
To give you an idea, there are many parks in Delhi although they are never empty. There are always plenty of young couples even in the very hot weather. This means that a cache hidden in the fork of a tree in a park will have a very short life. Also, Indians are quite fascinated by foreigners so tourists busy acting suspicious will raise a lot of suspicion and I can guarantee that they will go look around the spot where you were!
Unfortunately there are no virtual caches and very few Earthcaches in India. Back in the day when virtuals were allowed, there could easily have been 100+ virtuals created in the New Delhi area alone – there are plenty of very impressive ancient monuments and other special sites which could have been highlighted where physical caches would have struggled to survive.
I visited again in December 2012 although then there were only two caches to find in Delhi. Fortunately another cache popped up so I got the FTF on that one and found the other two – one an Earthcache at an old mining site and my 200th find at Humayun's Tomb (an ancient Mughal tomb).
When a cache is published in India, it can stay unfound for several months or even years depending on its location! So there's no need to rush when you get a notification of a new cache J!
In December 2013 I visited again and hosted an event to commemorate 11/12/13. Unfortunately no one (besides me) attended but there were a few people who expressed interest but just couldn't make it. I met up with an Australian cacher and took her around to some great geocaches. There was another cache that popped up in Delhi which was hidden in a sprawling green area which contains the ruins of walls of an ancient fort. We then also visited the cities of Dehradun and Haridwar north of Delhi (in a state called Uttarakhand) where I found one cache. We also visited Jaipur in the state of Rajasthan. There I found 4 caches at awesome locations. One was an Earthcache about the quartz rock by a Monkey Temple, another on the walls of an ancient fort, one at a beautiful lake and the last one outside another ancient fort.
In June 2014 I visited again and this time we visited Chandigarh and Shimla (both to the north of New Delhi in the states of Punjab and Himachal Pradesh). Unfortunately there are no geocaches in Shimla but I did manage to find 5 caches in Chandigarh – most in some of the city's parks including a Rose Garden, a park next to a huge man-made lake and one outside a sculpture museum with everything made out of recycled materials.
By this time I had found 38 Indian caches and I was determined to try and get to 50 Indian finds! In December 2014 my wish nearly came true. We visited the city of Agra where the Taj Mahal is located. Here I managed to find the two caches J! Then we visited Goa where I managed to find 7 caches ranging from some beach spots, an Earthcache at a very old Church made of laterite and a very old regular cache hidden in January 2005!
I also met up with an Italian geocacher who actually lives in New Delhi but escapes to Italy in the hot summer months and mostly caches there. It was interesting to discuss geocaching with him.
So in total, I have found 47 Indian geocaches with around 10 DNFs. Unfortunately I couldn't manage 50 finds and it looks like I won't visit India again so that number won't change. What is sometimes very frustrating about caching in India is the lack of owner maintenance. I often read listings with several DNFs and contact the owner to ask if they would please maintain the cache or if I could help. I rarely got a response from them. This was disappointing especially for someone who wants to find as many caches as possible in India. There was also an instance where a CO had a cache in a dire state where he proceeded to ignore it and place another new cache in the city. Instead of fixing up the other one and then placing the new one so that two caches were available, the older one was archived.
In January 2013 I placed 4 geocaches in New Delhi – 3 traditionals and a multi and I also adopted another cache. Unfortunately I had to archive two of the traditionals in December 2013 but still have three left. I recommend you check out my favourite of them all, Lodi Tour GC4449C, a multi cache in a big park in New Delhi with many monuments in it. The cache takes you on a tour through the park to all the monuments where you must find answers on the information boards by these sites to determine the cache's coordinates. It is a beautiful, well-kept park and shows just one of the places that can be discovered through geocaching. Toss the tour-book and search on gc.com J!
By experiencing geocaching in India, I also now really appreciate our geocaching community and the vast number of caches we have in South Africa. We can be very quick to moan and groan and compare geocaching numbers and activity in SA to the USA or Europe but instead we should appreciate our vast variety of geocaches – something that is non-existent in many many other countries!
Happy caching!
Delbadore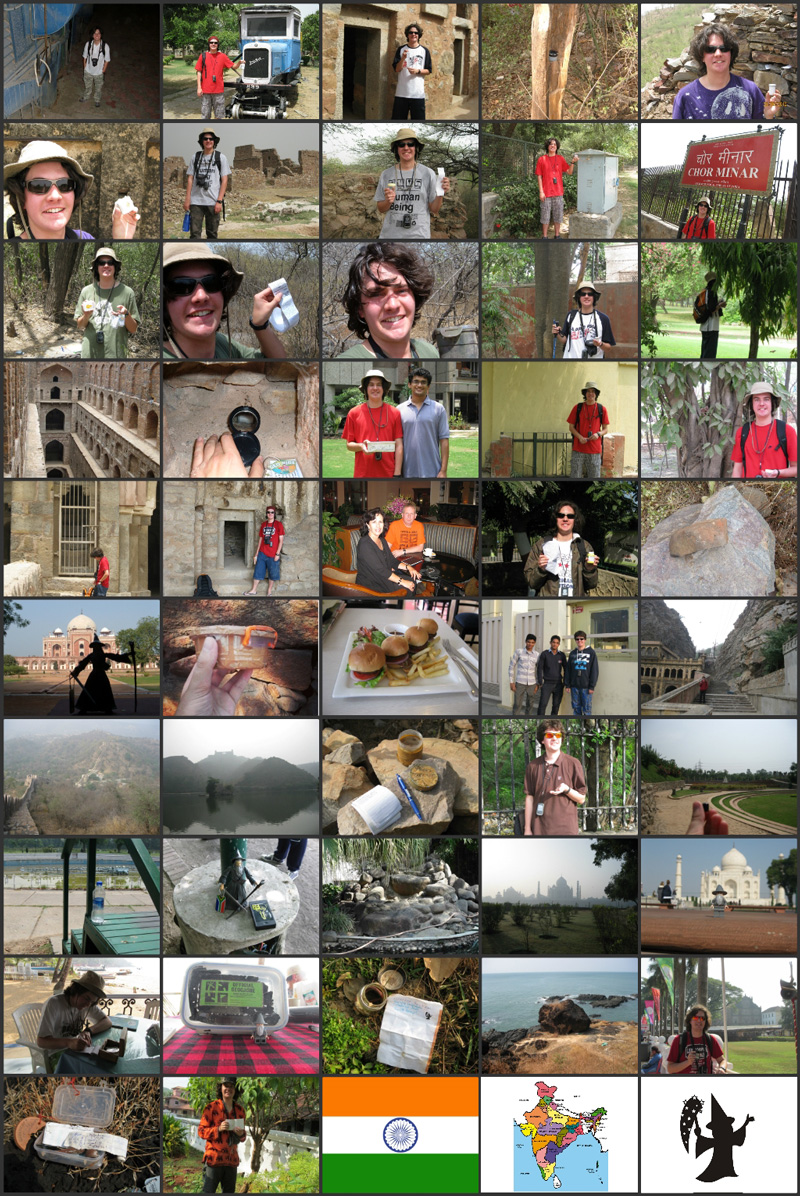 Article submitted by Delbadore