Cache Carnival souvenirs
Event Update
CITO souvenirs
Cache of the Month

Cache Carnival Souvenirs
You still have just less than two weeks left to finish the Cache Carnival missions before they end on 14 April. You can earn up to five souvenirs that are inspired by historic carnival locations like New Orleans and Rio de Janeiro by collecting points for attending events, finding geocaches with favourite points or earning favourite points on your own geocaches. Find out
more about the details here
.
But that's not all. There is a special sixth souvenir available for attending a Creation Celebration event. These are events to celebrate geocache creation and cache owners. Find one near you
here
.
Event Update
Events are a critical part of the geocaching community. It is where ideas are shared, newbies are introduced to the way that the game works, and many, many new good friends are made. The stats forum has recently done an analysis of the events across South Africa, which shows that events are growing in popularity.

Last year 318 events were held across the country and events accounted for almost 18% of all caches published in 2018. There are several more interesting stats on how many attend logs are logged and how big events are on the forum page here.

Events range from a weekend camping and caching with fellow geocachers, to weekly coffee or breakfast events for regular groups to just catch up with each other. If you are looking for an event near you, check out our website for the latest published events.
Cache In Trash Out Souvenirs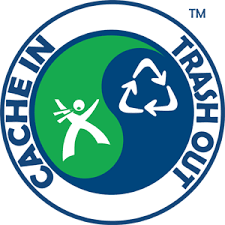 Cache In Trash Out® is an ongoing environmental initiative supported by the worldwide geocaching community.
Since 2002, geocachers around the world have been dedicated to improving parks and other cache-friendly places. Through these volunteer efforts, we help preserve the natural beauty of our outdoor resources! Geocachers around the world celebrate International Cache In Trash Out annually by hosting and participating in Cache In Trash Out Events in their local area. Events might be focused on litter clean-up, removal of invasive species, revegetation efforts or building trails. Together, we make an enormous positive impact. Did we mention that we also have a bit of fun while we're at it?

This year, Cache In Trash Out® souvenir moments will extend from just one week, twice a year, to two entire seasons. This year's CITO dates are:
CITO 2019, Season 1
Friday, March 1 through Friday, May 31, 2019. That includes all of March, April, and May!

CITO 2019, Season 2
Sunday, September 1 through Saturday, November 30, 2019. That includes all of September, October, and November!

To earn the CITO 2019, Season 1 and the CITO 2019, Season 2 souvenirs, all you need to do is attend or host any CITO event during each of the two seasons, but remember you will only earn one souvenir per season.
Cache of the Month
This month's COTM theme was for the best camouflaged cache out there. We are proud to announce that Roots and ROOTS (
GC79G8Y
) is April's COTM. If you are in the Newlands Forest area in Cape Town, be sure to try and find it and if you are lucky it will catch your eye!
For the next couple of months we will be focusing on all the different cache types. May's COTM will be for the Best Traditional Geocache out there. Please email us at
to submit your nomination.
Mega Merchandise

The
GoSA Store
still has some Jozi Jol Mega 2018 Silver Geocoins for sale, you can place your order online. We also have some stock of geocoins from the previous Mega events available. There is also very limited Jozi Jol Mega 2018 stock left, check the
GoSA Store
for details of what is left in stock.
We are always on the lookout for photos from events or cool caches, as well as any fun, interesting, unusual or exciting geocaching stories to share with the geocaching community. If you want to share yours, send it to us by emailing it to our webmasters.