This month in the
Grapevine
– Regional Ambassadors, Tribute to Andre, Capri Cache competition and more...
From the Desk of the Chairman
As we gear up to navigate Signal's various labyrinths over the next year, many of you will share this common problem; we've done all the caches in our area! We're no strangers to that horrific ordeal of having to travel 300km to get a cache to fulfil a requirement for a souvenir. If you are, bless you. Your time will come.

Some of you will know that I have spent the last month on a road trip trying to find the oldest pub in South Africa. It's far more of a contentious proposition than one may imagine. Obviously, geocaching was a guiding light throughout these travels, and I found myself discovering some fascinating and amazing places. If you were to ask me for a favourite, I wouldn't want to start a fight though I will share that there's a multi in Matjiesfontein that was certainly worth delaying my drive back to Bloemfontein by a few hours and arriving home at 3am. Oh and this multi in Caltizdorp got me meeting the local priest and…actually no, I won't get worked up on all the awesome caches in SA right now. It will turn this into a thesis. Thank you to all the cache hiders for the effort you have gone to which added to this adventure. I'll share more about the geocaching aspects of this trip next month.

In the meantime, a lesser-known tact I have come to enjoy while travelling, especially because I was relatively late to the geocaching party, is finding archived caches. That's not to say I go hunting in the hope I find the container. It's just that I've become so expectant of good caches getting archived, whenever I'm in a new area, I fire up project-gc, look for archived caches near me. Almost without fail, I find an archived cache that leads to me something awesome or at least a good story.
It got me thinking of perhaps using this to get over the struggle of limited nearby caches. Perhaps it's time to investigate the caches that are no longer with us but have a back story or area that is worth preserving and a new cache can be placed. So, if you've found all the caches around you, done the maintenance and find yourself wanting more, let me encourage you to investigate whether there is a cache or two near you to revive. You may just prevent a fellow cacher needing to drive to Bethlehem to get through Signal's labyrinth.
At GoSA (Geocachers of South Africa) we have recognised the need to have Ambassadors at a regional level, who have vast knowledge and experience, and can help develop the local geocaching community.
After an extensive review process, we have identified all-round, active, and experienced Geocachers in each region.
They have a passion for developing geocaching in their respective regions and have stepped up to be accessible to new and existing Geocachers for questions and support.
Please join us in welcoming the following people and thanking them for their ongoing contribution to the game we all love. (They are your local go-to person, so keep their details for future reference)
Eastern Cape
FireflyAfrica (Jonker Fourie)


(082) 889 2459
Free State
Uncle Chem (Richard Chemaly)


(072) 431 7131
Gauteng
Leon St (Leon Stoop)


(071) 330 8435
KwaZulu-Natal
M²C²D (Mark & Ceinwen Oosthuizen)


Mark: (083) 324 6176
Ceinwen: (083) 324 2167
Limpopo
Boats007 (Willem Botha)


(082) 463 3700
Mpumalanga
Bouts777 (Gerhard Botha)


(082) 876 3572
North West
Team Tip Top (Hansie & Zaneta Van Huyssteen)

Hansie: (082) 753 8082
Zaneta: (083) 258 5926
Western Cape and Northern Cape
SKATTIE@1 (Elize Louw)


(074) 138 6360
In the Shadow of the Dragon - Stats

Some members of the community have been asking for ISD stats, so let's look at some numbers:

Number of Geocachers that placed caches/hosted events for ISD = 11
Number of Geocache types placed = 8

Traditional = 130
Multi = 6
Earth = 2
Letterbox = 1
Where-i-go = 1
Mystery = 1
Virtual = 1
Event = 5

Number of Geocaching Teams that attended the weekend = 50
Number of Favourite points awarded = 199
Number of Provinces represented = 5
Average duration taken to complete the ActionBound adventures = 8h12m19s
Average ActionBound Score = 7786
Total Points that could be earned in the Action Bound = 13866
Total ActionBound adventures = 20
Value of prizes awarded = R30 000
Number of prize sponsors = 23
All in all a very successful weekend! Just a note from the COs – if you logged FLTF or full log to follow as your log, please can we ask that you take the time to amend it and write a great log as this is the most rewarding part for the cache owners.
Tributes to Andre Van Platen
It was with great sadness that we learnt of the passing of André from team
AdieA
on 14 April. André fought a long hard fight and is finally able to rest. Our condolences, love and prayers go to Elise and the rest of the family. André you will be missed!
We met Andre and Elise van Platen some 9 or 10 years ago when we came across them searching for a cache of ours. It was their first. After helping a bit we moved on, after inviting them to call on us when they attempt the cache outside our home. We had many caching experiences with them and created the
GeoArt Black Eagle
series with them!
Andre was a pleasant guy! Always friendly and ready to help! He loved what he did, loved his family, his work.... He loved life. Andre had a long struggle with his health, but one never heard him complain! He will be sadly missed by us and the geocaching community. Gone far too soon. Goodbye Andre, rest in peace! -
SpiderFinder (Speek and Petro).
It is with great sadness that family and friends are mourning the passing of Oom André from team AdieA. Words cannot describe how much he will be missed.
We were fortunate to meet him and his lovely wife, Tannie Elise back in 2015. We were geocaching newbies and the very first event we attended was a Yakkiti Yak hosted by the AdieA's. They immediately made us feel part of the group. It was agreed that they will be our geocaching dad and mom from there on.
Oom Andre was loved by so many people, and he would always be smiling. Geocaching was his passion. He contributed hugely to some of the adventures we shared, including the Cape Town mega. Our geocaching experience has been great, because of him.
What a privilege it was to be friends with Oom André. The gap that he leaves in the geocaching community is huge. We miss him dearly. He will never be forgotten. Until the very end you fought bravely, Oom André. You were a warrior. Now you can rest. While we are mourning, we can take comfort in the fact that your mission on earth has been fulfilled. You have left a void in our hearts. Until we meet again. –
Panters (Annelie & Edward)
Geocaching often brings people together. In 2015 we visited our son, Wilhelm, in Northcliff, Johannesburg to look after his dogs whilst he was on a trip to Japan.
During this time, we decided to contact 'AdieA', an unknown geocaching team, but local to the area, to enquire about where we could find many caches by foot, in a relatively small area. We quickly received an answer and it read: 'We are coming to pick you up tomorrow morning and will take you around'. At that time André had an injury on his leg and we were unable to meet Elise's 'boyfriend'! This was a very enjoyable day for us and the first day of a longstanding friendship.
In October 2016 we met each other again at the Mega in Cape Town. André and Elise showcased beautiful identical shirts for the occasion.
In December 2017 André and Elise took a road trip to Cape Town and stopped with us on the way at Aston Bay. We took the opportunity to organise an event 'Say cheers just before Christmas'. This was a special occasion where AdieA celebrated their 4000th cache with a group of our close Eastern cape geocachers…
Over the years we shared in each other's lives. André was such a warm person. He loved nature and was enthusiastic about life, he showed dedication and was an example for others. We celebrate and honour his life.
Elise, you and your family are in our thoughts and prayers, much love
Strandlopers w&e (Willie & Esta)
Ai André, how is it possible that I find myself writing these words. Where do I begin to write my story about you? I will always remember you, your laughter, your happy face. Always smiling. I remember how you enjoyed attending the geocaching events. You enjoyed chatting to people and sharing your experiences and wisdom. I knew that when I asked you for your point of view, it would be solid and objective. I learnt a lot from you.
You were very kind – never putting other people down, always building them up. You were so helpful, coming all the way to our Scout Hall in Bryanston to give professional and honest advice for our small building project. You knew your stuff and I felt secure to trust your judgement. You were positive, always looking at the bright side of situations, a trait that made me remember my late Dad, as he was like that too. I remember the chit chat at the CITOs – lots of laughs in between the cleaning up.
There were many times that your face would light up and you would give a chuckle when you heard me speaking in Afrikaans, and yet you always supported me. You were a true gentleman with a huge heart, filled with love and kindness. Dear André, I will not forget you – you are a true legend. Rest in eternal peace my dear friend. I hope you are united with your son in Heaven. Lots of love –
Silvia (Panthera03)
SA Geocaching Stats
By
Adventure_T
and
Danie Viljoen
Because sometimes, for some people, it is about the numbers… Here is a summary of the South African Geocaching activity for March:

997 Cachers found a total of 7,461 caches during March (almost double the number of finds compared to February). This is attributed to the successful "In the Shadow of the Dragon" KZN event.
32 Cachers placed 86 new caches during March.
The number of Cachers who found at least 1 SA cache in the previous 12 months is 6,531.
The number of Cachers who placed at least 1 SA cache in the previous 12 months is 197.
The total number of active South African caches at the end of March is 16,401.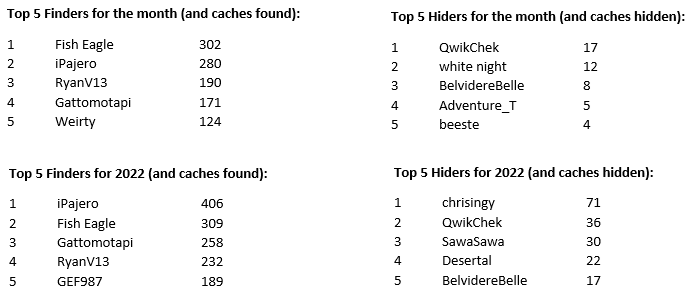 Congratulations to the winners for the April 2022 Quiz from Capri Cache Store! If you don't enter, you don't have a chance. If you have entered and have not been lucky as yet, keep trying! Each month, 3 lucky winners will be drawn from the hat.
16 entries were entered for the April Quiz, with three new first-timer teams entered. The winners are as follows:
First Draw:
M²C²D - Ceinwen & Mark Oosthuizen
Second Draw:
LandyClanTAB - Jeanne Burne
Third Draw:
TheonPlusA - Theon Theron
Capri Cache Store will be in touch with each of you to get your prize delivered.
The correct answers for the April Quiz are:
1.True or False: There is a/are geocache/s hidden on all 7 continents.
TRUE
2.On what date was South Africa's first geocache hidden?
14 JANUARY 2001
3.What does the acronym "SWAG" stand for?
STUFF WE ALL GET (but on a side note this SA suggestion was pretty cool ;-) - "Swap With Another Goodie"- thanks to Mark Oosthuizen!)
4.In which year was the first trackable GEOCOIN created?
2001
5.What name is given to someone who is not a geocacher?
MUGGLE
We look forward to receiving your entries for the May Quiz!
We look forward to receiving your entries for the May Quiz! Please follow
all
the steps below to participate and please encourage any of your geocaching friends who are not on the GoSA
Grapevine
mailing list to sign up so that they too
can enter the competition.
Please use the following link to subscribe:
https://www.geocachingsa.com/
index.php/newsletter/subscribe You will need to leave both boxes (General Geocachers of SA and Mega Event News) ticked, in order for the subscription to be valid. Please also check your spam folder for the verification email. Good Luck!
New Souvenir: Blue Switch Day 2022
Blue Switch Day celebrates the day that the switch was flipped, and GPS technology was made available to the general public twenty-two years ago.

Starting on April 30 through May 2, you can earn the Blue Switch Day 2022 souvenir by finding a geocache, Adventure Lab® Location, or by attending an Event.
New Souvenir: Signals Labyrinth #1 - Enchanted Forest

Signal is on the move, and you need to help him find his way out of the labyrinth and back to GCHQ. A total of twelve souvenirs are up for grabs. Earn leader board points over a two-month period to qualify for two new souvenirs per two-month period. At the end of the two months the points will reset (on the first Monday of the next two-month period) and you will be able to then start earning points toward the next two souvenirs. Escape all 6 labyrinths, earn all twelve souvenirs and you will also earn a meta souvenir.

You must earn 50 points for the first souvenir and 500 points for the second souvenir in each labyrinth. The points values for each cache type will change for each labyrinth. In every labyrinth there will be a mystery item that if found will earn you bonus points. You will not be able to search caches to see which have this mystery item in it.

For April and May, the souvenirs up for grabs are Signal's Labyrinth: The forest and Signal's Labyrinth: You escaped the forest. The mystery item for the Enchanted Forest Labyrinth is a glowing firefly.
Current Souvenirs


Souvenirs are virtual pieces of art that you can earn, discover, and display on your profile page. They are associated with a particular location, task, find or event and may also be bound by time.

The souvenirs that are currently up for grabs are listed and pictured below:

Found an awesome cache? Have some tips to share? Been on a cool geocaching adventure lately? Exciting events happening in your geocaching community? Taken a great photo? We would love to hear all about it!

Please email our newsletter editor at
We are always on the lookout for photos from events or cool caches, as well as any fun, interesting, unusual or exciting geocaching stories to share with the geocaching community. If you want to share yours, send it to us by emailing it to our newsletter writers.