This month in the
Grapevine
- Cache of the month, Merchandise, International Trips and more.....
From the Desk of the Chairman
I'm so chuffed with the response to the goals we established in the last newsletter. Thanks to everybody who reached out, especially those who are hosting CITOs already. It's gearing up to be a great 2023 of caching.

That being said, thanks for an awesome 2022, year of the hide. December tends to be a time to get away and with that, as geocachers, we get excited about the prospect of, well, prospecting caches in foreign lands. Those of you travelling, may you be safe and of course, take advantage of new caching possibilities as we move onto Signal's next adventure. If you're placing caches in these new areas, please make sure you have some sort of maintenance plan. I can't imagine it's jolly for our reviewers to have to make difficult calls on caches that are dropped in new areas with nobody to look after them.

Speaking of the reviewers, I'd like to thank our locals for keeping the game alive and ensuring that the caches remain in good condition. I was recently up in northern Gauteng and impressed with the level of maintenance. Thanks, in particular to Africa Rocks! Grant has been reviewing our Caches, earth and otherwise, for 10 years now so we got some members of the community to say thanks. Those of you with a keen eye will find it.

As we close off the year, I'm looking forward to many events across the country that get us those sweet souvenirs on the 31st and the 1st. Hoping to join one or two. May you have an awesome festive season spent with those you love and, of course, may there be a couple new yellow smiley faces on your maps. Looking forward to an adventurous 2023!
Cache of the Month

From January we will be reintroducing Cache of the Month Awards, the format will be similar yet a little different to how we ran it in the past. Each month we will have a different criteria for the caches that can be nominated. So, in January we will call for nominations to be submitted by a certain date, a link to a google nomination form will be included in each newsletter and will be the only way to nominate a cache.

These nominations will then be checked to make sure that they fit the criteria and the guidelines set by the committee. The committee will narrow the nominations down to the top three then in the February newsletter we will send out details of these and call for votes on them, via a separate google form, by the caching community by a certain date. The winner of the January COTM will then be announced in the March Newsletter. In February we will then also call for nominations for a new set of criteria.

So to summarise in January we will only have nominations for the January COTM. In February we will then have community voting for the January winner and nominations for the February COTM. In March we will announce the January winner, vote for the February winner, and nominate caches for the March COTM and so the process will continue each month thereafter.

We are looking forward to recognising some great caches and having awesome participation from the community
GoSA Social Media


We need your help! Social media is the easiest, fastest, and probably the most efficient way to share things with others. It's informative, educational, and entertaining plus who doesn't love to show off and say, "Look where I am and you're not." In the case of Geocachers, "Look the cache I found. You've got to put it on your to-do list."

GoSA has both a Facebook page and an Instagram account and we need your help to get some really nice pictures and cache information on it.

We all go caching with our phones and if your phone doesn't have a camera, Noah probably still used it to call his sons on the other side of the ark. We want to encourage you to not just use the GPS on your phone, but also the camera. Snap a pic of your caching adventure, that stunning view from the cache location, your fellow cachers searching or signing the logsheet or that interesting cache container. As far as the container goes, we would prefer it to be your own, one belonging to a friend who won't mind you sharing it or at least one that won't give the hide away or spoil the caching experience for others.

Now you're probably wondering what to do once you gave the pictures. You can do one of the following:
Post it on your own social media (Facebook or Instagram) and tag the GoSA profile.
WhatsApp the picture (again with some info) to FireflyAfrica at 082 889 2459

We are looking forward to hearing from you and sharing your caching pics with everybody out there.
Because sometimes, for some people, it is about the numbers… Here is a summary of the South African Geocaching activity for October:

1,076 Cachers found a total of 5,240 caches during October.
27 Cachers placed 40 new caches during October.
The number of Cachers who found at least 1 SA cache in the previous 12 months is 8,145.
The number of Cachers who placed at least 1 SA cache in the previous 12 months is 200.
The total number of active South African caches at the end of October is 16,292.

Top Dogs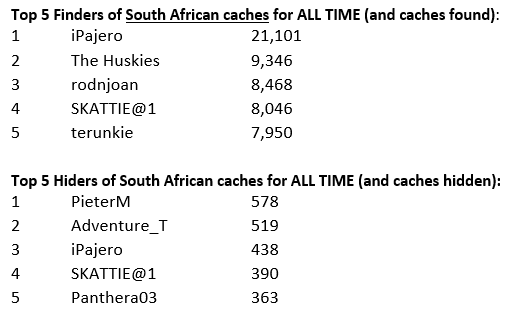 Note: All the above statistics include all South African caches on the geocaching.com database, which doesn't include Adventure Labs.
Congratulations to the winners of the November 2022 Quiz from Capri Cache Store! If you don't enter, you don't have a chance. If you have entered and have not been lucky as yet, keep trying! You can enter every month, as long as you only submit one entry for the month AND you are subscribed to the GoSA monthly Newsletter. Each month, 3 lucky winners will be drawn from the hat. Hint: Read the questions carefully ;-).

5 entrants were entered into the November Quiz, with 2 new quizzers - whoop whoop! Please chat to your geo friends and encourage them to enter this Quiz. It costs nothing to enter and it is fun too!

Please note: This is the final Quiz and will be in the December issue of the GoSA Newsletter. The closing date will be 24th December instead of the usual 20th of the month. Winners for the last quiz will be published in the January 2023 issue of the GoSA Newsletter.

The winners for November, are as follows:

First Draw: TheonPlusA – Theon Theron
Second Draw: Budgetexperiences – Helena Jacobs
Third Draw: TheBlondeFH – Melanie Walker

Capri Cache Store will be in touch with each of you to get your prize delivered.

This is your last chance to try your luck! A GREAT BIG THANK YOU to all the geocachers who participated in the Quiz - I hope you enjoyed finding the answers, as much as I enjoyed putting the questions together. I have a few outstanding prizes to send out and will get to it after Christmas. I ended up waiting for the final quiz, as some geocachers have been really lucky and have won more than once. It makes sense to send everything in one shipment - thank you to all of you who have been waiting patiently for your prizes all this time!

Answers to November's Quiz
1. How many countries in the world have geocaches (reported in 2021)? 191
2. What is the name of the Largest Geocaching GeoArt according to the Guinness World Records, hidden in 2020? Dragons Treasure (also accepted Luca's Geoart)
3. Which team is the Top Hider of all time in South Africa? PieterM
4. Where was the physical meeting place of the 2022 GoSA AGM? Ponte Building, Jhb
5. In May 2013, the World's Most Found/Logged Geocache was what? (GC Code please).
GC189E5


We look forward to receiving your entries for the December Quiz!
QUIZ TIME – DECEMBER 2022
1. What is the name of the cache type that is represented by a cut-out globe?
2. True or False. Hugh Jackman is a geocacher.
3. Which language is "cache" derived from?
4. How did "
geocaching.com
" get its first funding?
5. Who is currently (geo-name) the Top Finder in South Africa for 2022?
Please use the following link to subscribe:
https://www.geocachingsa.com/
index.php/newsletter/subscribe You will need to leave both boxes (General Geocachers of SA and Mega Event News) ticked, in order for the subscription to be valid. Please also check your spam folder for the verification email. Good Luck!
An International Adventure - Part 1
We, The Huskies just came back from a two-month Geocaching holiday in the USA and UK. This is our story:
We left Cape Town International airport on Wednesday evening 27 July at 19h00 for New York City with a 2-hour layover at London Heathrow. We arrived in NY on Thursday at 15h00 and stayed over in the TWA hotel on the airport. Here we did our very first cache of the trip (GC9P6PX). This Virtual takes you about 60 years back in time.
We took to the skies again at the crack of dawn the next morning and arrived midmorning in Los Angeles. Got the rental car and set off on our Caching Adventure. Not too far from the airport our GPS nudged us towards the graveyard for the rich and famous. Marilyn Monroe's, Hugh Hefner and a few others' final resting places were the highlight for us, if one could call it that. (GCHZZ2)
We headed out of the city into countryside California. Passed through Bakersville to get to Kernville, picking up some caches along the way. We got to spend 2 days with Wayne (Katarn1977) in Kernville where he arranged an event for the Saturday evening. Some of you might know him from the time he spent in South Africa a few years back. Four FTF's including a virtual came our way, of which Kernville Museum (GC9PTYE) was a most memorable one.
Sunday 31 July. After a wholesome American breakfast at the local diner, we set off for Las Vegas. A leisurely 5-hour road trip somehow turned into a two-day affair thanks to a little power trail diversion. If ever anyone wondered where the largest thermostat in the world is, check out the cache "Some like it hot" (GC436A). Another interesting stop was Yuck! A Tree. (GC9R1XJ) just a few miles short of the Nevada Sin City.

Two days were spent in Las Vegas, juggling sightseeing, a FTF and caching. The water fountain shows at the Bellagio is a memory that will always stay with us. Photos and videos just cannot tell the story as good as actually being there. And of course, there was a Virtual there… Lake Vegas (GC4E95) Las Vegas is a city that never sleep. They say you can see the lights from space.
We left Las Vegas on Wednesday, the 3rd of August for Hoover dam and slept over in a small town called Seligman on Route 66. That is where we met John Wayne. If you have to ask who he is, you are still a youngster. He was the Tom Cruise of the previous Century, just way, way cooler. From here we drove to The Grand Canyon for the day (Earth Cache Heaven) and stayed over in an Indian reservation hotel called Cameron Trading Post.

We drove through Monument Valley on Friday, the 5th of August. That is where all the western movies were made with the stunning rock formations. We did caches like: Take a Gander … (and meander) (GCHJ1X) and Mexican Hat (GCH83R). That night we slept in Blanding. Next up was a highly anticipated meetup with an old friend Aaron (Vespax in the Geocaching World) in Grand Junction, Colorado. We teamed up with a few of the local cachers and got to do a few finds with them.
Then a Big, Huge Milestone showed up on our radar. We crossed over into Kansas. But first a small matter of a 300km detour took us to Lake George (GC18) before we could go for the "holy grail" cache. The oldest active Geocache on this planet needed to be found. On Wednesday the 10
th
of August we logged Mingo (GC30). Mingo was hidden on May 11
th
, 2000. That is a whopping 8126 days ago. The rest of the day was spent in pursuit of Mingo Art Caches and some very cool gadget caches in Colby. From here we drove to Arikaree (GCEF27) placed 31 May 2000.
On the other side of the World, some 16000 kilometres away, Henzz must be packing his bags already. We will meet him at Sea-Tac airport in a few days. We still have some 2500 kilometres to drive to get to Seattle. So many miles, so many caches, so little time.
Along the way we got to tick off Colorado (again), Wyoming, Utah, Idaho, Oregon, and Washington States. A new cache in the Rockies haunted us so much that we added a whole curve onto our tracklog just so we could sign the log in the FTF spot. Cache's name was Rock Solid (GC9XTQY). An unexpected surprise greeted us just up the road from this cache. We saw Elk just casually roaming the streets of a small town called Estes!
The next morning, 13 August, we drove to Salt Lake City where we did 2 Virtuals, one of which was at an Air force museum: What hill? (GCGZCN) There are planes from the Wright brothers, The B-52 bomber and the C-130 Hercules that was used in South Africa airforce. We left Salt Lake City and stopped at a little town called Mountain Home for the night.
Today is the 15
th
and we need to be at Sea-Tac airport on the 17
th
, There are still 1200km to do in 2 days. We got to Seattle on the evening of the 16
th
and spend the 1
st
night in our new accommodation that would be our home base for the next week.
I will let Henzz do the storytelling from hereon in.
Look out for An International Adventure Part 2 in the January newsletter!
New Souvenir: Signals Labyrinth # 5 Stone Castle

A quick summary of how this souvenir series works:
A total of twelve souvenirs over 6 labyrinths are up for grabs from 4 April 2022 – 3 April 2023.
Earn leader board points over a two-month period to qualify for two new souvenirs per two-month period.
Escape all 6 labyrinths, earn all twelve souvenirs and you will also earn a meta souvenir.
Earn 50 points for the first souvenir and 500 points for the second souvenir in each labyrinth.
There will be a mystery item in each labyrinth that if found will earn you bonus points.
We've made it through the hedge maze and now we are in the Stone Castle, to help you along there are some bonus lanterns hidden in the castle and these are the mystery item for this Labyrinth. We have from 5 December to 5 February 2023 to escape the castle and reach the final challenge.
GoSA Merchandise


Please remember to click on this link and give us feedback on the merchandise range GoSA is looking to start supplying through its store for our geocaching enthusiasts – we have only received 4 responses in November!
New Souvenirs
Celebrate the end of 2022 and the start of 2023 with two new souvenirs – Drop Anchor and Full Sail. To earn these you will need to find a cache or attend an event between 24 & 31 December 2022 and 1 & 8 January 2023. Travelling? Why not host a quick event in the area you are going on holiday to? It's a great way to earn the souvenirs plus meet the local cachers.
Current Souvenirs


Souvenirs are virtual pieces of art that you can earn, discover, and display on your profile page. They are associated with a particular location, task, find or event and may also be bound by time.

The souvenirs that are currently up for grabs are listed and pictured below:

They are your local go-to people, so keep their details for future reference
| | | |
| --- | --- | --- |
| Eastern Cape | FireflyAfrica (Jonker Fourie) | 082 889 2459 |
| Free State | Uncle Chem (Richard Chemaly) | 072 431 7131 |
| Gauteng | Leon St (Leon Stoop) | 071 330 8435 |
| KwaZulu-Natal | M²C²D (Mark & Ceinwen Oosthuizen) | M 083 324 6176 C 083 324 2167 |
| Limpopo | Boats007 (Willem Botha) | 082 463 3700 |
| Mpumalanga | Bouts777 (Gerhard Botha) | 082 876 3572 |
| North-West | Team Tip Top (Hansie & Zaneta Van Huyssteen) | H 082 753 8082 Z 083 258 5926 |
| Western & Northern Cape | SKATTIE@1 (Elize Louw) | 074 138 6360 |
Found an awesome cache? Have some tips to share? Been on a cool geocaching adventure lately? Exciting events happening in your geocaching community? Taken a great photo? We would love to hear all about it!

Please email our newsletter editor at
We are always on the lookout for photos from events or cool caches, as well as any fun, interesting, unusual or exciting geocaching stories to share with the geocaching community. If you want to share yours, send it to us by emailing it to our newsletter writers.