Happy Valentine's Day, we hope your month is filled with love!
From the Desk of the Chairman
Such a cool thing happened this week; I attended a farewell event for a cacher leaving their province and the community was there to wish them. It may not sound like something out of the ordinary but given that we've been restricted and lost contact with some, it's been amazing to see caching communities becoming increasingly engaged over the last few months.

It's been delightful to see many events coming up all over the country and particularly great to see that many of them are CITO's. We may well reach the target of 20 CITOs nationally this year sooner than we thought. Keep it up and thanks!

So, on the subject of events, that's, 8 more provinces to go for my personal target of attending an event in every province this year. With the increased community engagement, I've no doubt that there will plenty to choose from in the upcoming months.

Since we're getting together more often, I have a favour to ask; put your minds together and think up some interesting ideas for submissions to the Geocaching International Film Festival. If and when they announce the next edition, I'd like some entries from Africa. It's high time we showed the international geocaching world our creative abilities.

Enjoy the month of love and don't forget to help Signal out of his final mess. Oh, and lest we forget, welcome back to Cache of the Month.
Cache of the Month


To summarise how COTM will work: This month we will have community voting from the caches that were nominated for January to determine a winner. We will also be nominating caches for the February COTM. In March we will announce the January winner, vote for the February winner, and nominate caches for the March COTM and so the process will continue each month thereafter.

We will also be introducing TWO community involvement competitions relating to COTM – one for nominating and one for voting. Each time you NOMINATE a cache for COTM you will go into a draw for a prize from GoSA and each time you VOTE for a COTM winner you will go into another draw for a prize from GoSA. The nomination competition will close on in December 2023 and the voting competition will close in January 2024. (All cachers who nominated a cache in January will be included in the competition)

The theme for January COTM nominations was Unique Logbooks – we received 8 nominations on 7 different caches. Sadly 2 caches were disqualified, one for being disabled and the other for having crucial needs maintenance logs since 2017 unattended. The committee narrowed the remaining 5 nominations down to the Top 3. You can see which caches they are and vote for who you think the winner should be by clicking on this link. Voting closes on 20 February 2023.

One of the reasons we all love this game so much is that cachers, by placing their caches where they do, sometimes take us to new places. When chatting to other geocachers you will often hear "If it was not for geocaching I would never have known about this spot" and so the theme for February COTM nominations is all about the new, interesting or unusual place that a geocache has taken you to. When submitting your nomination for this month please tell us why you loved this spot so much? Was it the view? Was it that an out of the way place? Was there in interesting history behind the place you went?

Nominate them for the COTM by using this google form. Nominations need to be submitted by 20 February 2023
Big Events


In order to keep the Geocaching community alive, it is necessary not only to create and hide new caches, maintain current ones and arrange local events, but also meeting cachers from different regions and areas - this contributes to a sense of belonging to a wider community.

This can be achieved with arranging larger events where cachers from different regions and provinces can get together, discuss, and learn from one another. As a national committee, GoSA is keen to not only encourage the arranging of events in different regions, but may also try to provide support to assist regions to host larger events that may attract more than just a few local regulars.

Therefore, we would like to encourage or urge geocachers from different regions to start thinking and talking to one another about arranging larger events that could attract many cachers from further away and perhaps even going much bigger by arranging a Mega event.

Should a region be interested in doing this, please contact your Regional Ambassador or GoSA to communicate your desire to do so and we could then look at providing some support in making it a reality.
Because sometimes, for some people, it is about the numbers…
Firstly, a huge congratulations to our South African Geocaching Champions of 2022:
Finder of the most SA geocaches in 2022
: Gattomotapi with 868 finds
Hider of the most SA geocaches in 2022
: chrisingy with 103 hides
Well Done!!!
Here is a summary of the South African Geocaching activity for December:
1,285 Cachers found a total of 6,708 caches during December.
40 Cachers placed 82 new caches during December.
The number of Cachers who found at least 1 SA cache in the previous 12 months is 8,373.
The number of Cachers who placed at least 1 SA cache in the previous 12 months is 207.
The total number of active South African caches at the end of December is 16,118.
Top Dogs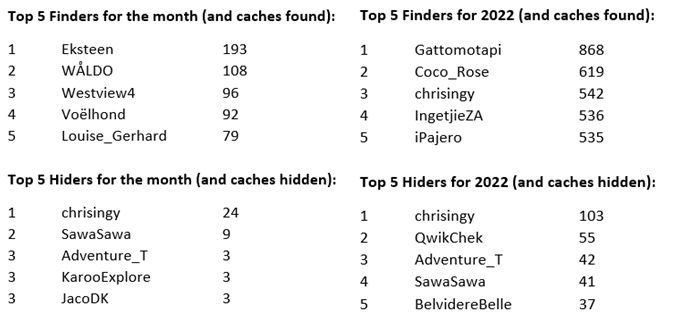 Note: All the above statistics include all South African caches on the geocaching.com database, which doesn't include Adventure Labs.
iPajero's Once in a Lifetime Holiday & Geocaching Adventure
By
iPajero
We were really blessed with a holiday that had only been a dream for us when our daughter and partner in the USA organised and took us on a five-week holiday to Alaska, Hawaii, Canadian Rockies and Niagara Falls. We consider ourselves very privileged and are extremely grateful for this opportunity that was afforded to us.

We experienced many wonderful sights and were able to log many exceptional caches, but will only comment on those that really stood out for us. The USA and Canada has numerous caches including geo-art series and ALC's so we were really spoilt for choice. In total we were able to log 1517 caches while enjoying the great places and sights we visited. Here's a breakdown - 748 Adventure Lab locations, 458 traditionals, 175 mysteries, 55 EarthCaches, 34 virtuals, 33 Whereigos, 4 webcams, 3 multis, 2 locationless, 1 letterbox, 1 Project APE (new), 1 GIGA Event (new), 1 Maze exhibit (new), and 1 HQ event.


Our geocaching journey commenced with Virtual Reward 2.0 - O. R. Tambo International GC892A2 en-route to London and then on to Atlanta where our daughter stays in Dunwoody, such a beautiful area. We spent the first month there and enjoyed long daily walks around the area geocaching. What a pleasure it was to walk around such a clean well-kept area and feel completely safe. We were amazed to see the postal service collecting and delivering mail on a daily basis, so unlike our service here in SA.

Here are some of the notable caches found during our month's stay in Atlanta. The first geo-art series we did - GGA 20th Anniversary GeoArt - 01! GC9CH5R. This series was placed by the Georgia Geocachers Association (GGA) who held its first ever event on June 9th, 2001, this series was placed to celebrate their 20th anniversary. It was also a different geo-art being made up of whereigo caches. We were pleased to find and log all thirty three.
We were also happy to convert an old cache placed in Feb 2001 - Morgan Falls GC359 into a smiley. In 2015 it was missing and we had a DNF on it. Fortunately, we could find another cache in the USA to fill our monthly calendar for that month. On a train trip to Down Town Atlanta we logged the virtual cache - The Shade GC7B8VN at a memorial in remembrance of 103 members of the Atlanta Art Association who never made it back from their month-long tour of famed European art galleries. The day included a long day's hike around Piedmont Park finding many caches.

We also had a weekend visit to Chattanooga, Tennessee visiting the spectacular
Ruby Falls Caves. The caves are really outstanding with many formations, and in our opinion is on a par with the Cango Caves. In addition, at the end of the caves there is a big water fall which gets lit up with coloured lights and is really spectacular. An earth cache has been created here - Ruby Falls Earth cache GC20DRH. The town also offers a Webcam cache which are very rare - I See You! GCPB7G. We were amazed to find and log this cache - South Africa in the USA GC26PHZ by The Huskies.


Finally, the day arrived for the five week tour and we flew to Vancouver, Canada to board our cruise to Alaska. While waiting to embark we took the opportunity to log some awesome caches, the virtual cache - Olympic Cauldron GC9P7BV that was lit for the 2010 Olympic games after the flame had been carried 45 000 kilometres by 12 000 athletes. Another interesting cache was - Gastown: The Steam Clock GC78HP3 which operates on steam and the clock displays the time on four faces and announces the quarter hour with a whistle chime that plays the Westminster Quarters.


Boarding the Holland America ship, the Koningsdam, for a seven day cruise to Alaska and back we did not know what to expect. On board we had a luxury cabin and as much food as you could possible eat - it was indeed a five star experience and we enjoyed every moment of it.


The first port of call was Junea where a helicopter excursion was scheduled to Mendanhall Glacier to do dog sledding on the ice with the huskies. Unfortunately the mist was too heavy to get high enough for the sledding so had to settle for a flight over the lower slopes of the glacier and landed for a walk on the glacier. This was an unforgettable sight and experience. Junea's origin was from a gold mining town and has a memorial where there is an earth cache - Juneau Goldbelt GC58F1P.


The next port of call was Skagway where we took the train excursion up the world-famous White Pass Rail which was built to ferry miners up the pass. The scenery and engineering feat was something else to behold. At the circular link at the top of the pass we were able to log the earth cache - The Tormented Valley GC33BZZ. After the train trip the ladies did gold panning at the Klondike Gold Fields and actually found small amounts of gold. The men opted to go and do dog sledding after the disappointment of Mendenhall Glacier. This one was a cart with wheels which was a great adventure and really loved the dogs and puppies which we could pat.


The next day was cruising in Glacier Bay, but unfortunately due to the heavy mist the whole bay could not be navigated. We did however, anchor just off Lamplugh Glacier and was able to observe it fairly close up. It was amazing to see a huge chunk of ice break off and fall into the ocean together with all the icebergs already floating in the water. There was an earth cache there to record our visit - A Spectacular View of Lamplugh Glacier GC9X76R.


Our final port of call was Ketchikan where we attended a lumber jack show for an impressive performance. Here we logged a virtual cache Welcome to Ketchikan! - Virtual Reward 2019 GC892G1. It tells the story of how Alaska's First City came to be.

All too soon the cruise came to end, and we disembarked in Vancouver, Canada.


Straight from the cruise we headed for the GIGA event at Abbotsford - GeoWoodstock XVIII – GWXVIII GC86VDF. This was the first GIGA event we attended. Although we arrived late morning, we expected to see many more attendees at the event. We visited the stalls and purchased an event Geocoin LSDPMN, which you may discover. Besides the GIGA icon we were also able to earn two other new icons; Adventure Maize icon from the cache - GPS Adventures Maze Canada - Abbotsford, BC GC9RW7C and locationless cache - Find Signal the Frog® - Locationless in 2020 GC8FR0G. The only extra attraction here was the Adventure Maize (an educational and interactive stroll through the game of Geocaching), otherwise it was pretty much like any other MEGA event we have attended.


Before departing for Hawaii we took a quick morning excursion up Grouse Mountain by cable car and then on to the top of the mountain with a chair lift. Also watched two brown bears (in captivity) while listening to a talk, also talks on birds while in flight. Attended a second lumberjack which was, once again, very impressive.

In the afternoon we took a flight to Oahu Island, Hawaii landing at Honolulu. The next day was the only day we had on the island, but managed to do a tour of the island visiting many spectacular sights. One highlight for us was Pearl Harbour with a virtual cache - VALOR IN THE PACIFIC NATIONAL MONUMENT GC7B7CK. The other must do cache on the island was the oldest cache in Hawaii on a trail in a beautiful forest - Geocache GC23, placed in July 2000.

The next morning we took a short flight to Big Island for four days. In the afternoon we had an excursion with a 4X4 bus up to the top of Mount Mauna Kea which is an extinct volcano. This mountain is 4207 metres high and has 11 observatories stations up there. Up there is a webcam cache which we logged giving us a cache above 3500 metres - Pahupa'iki'i Maka GC3D6D. This was a must do cache for us.

We observed a beautiful sunset above the clouds below us. We were both quite light-headed up there from altitude as the oxygen level is 40% less than at sea level. Both on the way up and down one needs a break to acclimatise. Going up we stopped for an early picnic beef stew and on the way down we stopped to do some star gazing.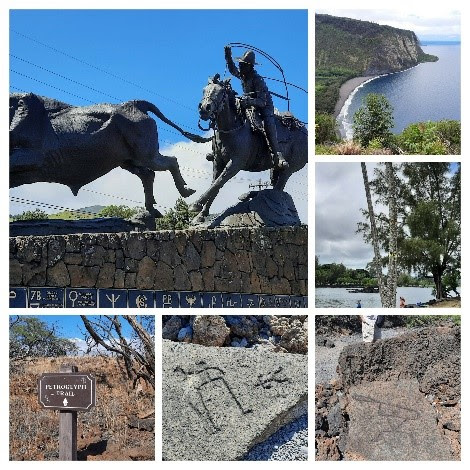 The island has been ravaged by a few Tsunami's. We found two caches which reminded us of these events the webcam cache - THE PACIFIC TSUNAMI MUSEUM ~ HILO, Hawai`I GCMF77 as well as the earth cache that shows the height of four tsunami's on a coconut tree, the highest being 26 feet (8 m) - Mokuola! GC343DM the height of the waves being frightening. What really surprised us was the amount of lava and lava flows that covers this land.
Amongst the old lava flows, we visited a site with numerous petroglyphs logging the cache - Petroglyphs GCJMVP.
One of the sites we really enjoyed visiting was the Hawaii Volcanoes National Park where we got to see an active volcano by day and night. The daytime view was a red glow in the sky with steam vents all around, but the night view you could actually see the lava glowing red hot and bubbling (however, not erupting – it last erupted in 2018). The earth cache there is Hawaii Volcanoes N.P. - Caldera and Crater GCQV5G.

Another point of interest was walking through a lava tube with another earth cache Hawaii Volcanoe
s N.P. - Rain Forest & Lava Tube GCQV5H. These sights were spectacular to say the least.

One of the most festive experiences to be had on a visit to the Hawaiian Islands is a lūʻau – a Hawaiian feast featuring lively music and vibrant cultural performances from Hawaiʻi and greater Polynesia. We consider ourselves extreme privileged to have attended a lūʻau. On arrival we were adorned with a lei made from fresh purple orchid flowers.

The food was fantastic - our favourite being kalua pig, pork prepared in an imu (underground oven), then shredded when done. We were able to watch the process of it being uncovered, firstly the ground removed and the sheeting rolled back and then the peeling off of the banana and tea leaves, before being lifted onto a huge tray. The entertainment was superb with our daughter's partner being enticed onto the stage for a dance performance. No visit to Hawaii would be complete if you did not experience a lūʻau.


After spending five glorious days in Hawaii we flew back to Seattle overnight to arrive in the morning to attend the - Geocaching 20th Anniversary Celebration GC896PK. In spite of the lack of sleep we enjoyed the event with many activities and a far larger crowd of people than at the Geowoodstock event. The event was well organised and thoroughly enjoyable. The logbook was four huge green blow-up figures representing 2022. We were also able to purchase the event Geocoin HQN45M, which you may discover. We also purchased an International Geocaching Day Geocoin L59A6V as it depicts four modes of transport aeroplane, ship, train and car which we had travelled in to get to this celebration event, which you may also discover.


After the event we spent five days in a cottage in a pine forest near Cle Elum Lake, which was 140 km away from the heart of Seattle. From there we found a number of caches on our to-do list. The first being in the middle of the 2-1/4 mile long Snoqualmie Tunnel - Bloody Fingers, Dirty Diapers... GCJMDK.
The next cache, and a really must-do for us, was the APE cache - Mission 9: Tunnel of Light GC1169. This not only gave us a new icon but qualified us for the Trifecta Challenge, having logged - Original Stash Tribute Plaque GCGV0P and - Geocaching Headquarters GCK25B caches back in 2015, but at that stage the Ape cache was missing. Fortunately, it was found, replaced and unarchived. Our Trifecta Geocoin is TRD93Y, which you may discover. The final to-do cache for us to log in this area was the oldest cache in Washington placed June 2000, which involved climbing Mount Margaret. Fortunately us oldies were able to make the top and tick this one off our list - Geocache- (GCD) GCD. However, it was a long day of geocaching and walking.

Look out for part 2 of iPajero's travels in the March Grapevine!
Congratulations on the winners for the December 2022 final Quiz from Capri Cache Store:

First Draw: Weirty – Gerty Weir
Second Draw: Firefly Africa – Jonker Fourie
Third Draw: Orosman – Dwaine Duthie

I wish to take this opportunity to thank the Geocaching community and GoSA for supporting my monthly Quiz last year. It was a lot of fun doing the research and learning how to communicate clearly to avoid misunderstandings and ambiguity. You learn something new every day! Thank you for all the feedback and the laughs - it was wonderful!

Wishing all my customers a fantastic 2023!
New Souvenir: Signals Labyrinth # 6 Dragon's Lair

A quick summary of how this souvenir series works:
A total of twelve souvenirs over 6 labyrinths are up for grabs from 4 April 2022 – 3 April 2023.
Earn leader board points over a two-month period to qualify for two new souvenirs per two-month period.
Escape all 6 labyrinths, earn all twelve souvenirs and you will also earn a meta souvenir.
Earn 50 points for the first souvenir and 500 points for the second souvenir in each labyrinth.
There will be a mystery item in each labyrinth that if found will earn you bonus points.
The final challenge is upon us - help Signal escape, the Dragon's Lair! Find the ham, the dragon's favourite food along the way to earn yourself bonus points. Remember that if you've earned all the previous souvenirs then you will also earn the a bonus souvenir once you've completed this challenge. Points breakdown:


Current Souvenirs


Souvenirs are virtual pieces of art that you can earn, discover, and display on your profile page. They are associated with a particular location, task, find or event and may also be bound by time.

The souvenirs that are currently up for grabs are listed and pictured below:

They are your local go-to people, so keep their details for future reference
| | | |
| --- | --- | --- |
| Eastern Cape | FireflyAfrica (Jonker Fourie) | 082 889 2459 |
| Free State | Uncle Chem (Richard Chemaly) | 072 431 7131 |
| Gauteng | Leon St (Leon Stoop) | 071 330 8435 |
| KwaZulu-Natal | M²C²D (Mark & Ceinwen Oosthuizen) | M 083 324 6176 C 083 324 2167 |
| Limpopo | Boats007 (Willem Botha) | 082 463 3700 |
| Mpumalanga | Bouts777 (Gerhard Botha) | 082 876 3572 |
| North-West | Team Tip Top (Hansie & Zaneta Van Huyssteen) | H 082 753 8082 Z 083 258 5926 |
| Western & Northern Cape | SKATTIE@1 (Elize Louw) | 074 138 6360 |
Found an awesome cache? Have some tips to share? Been on a cool geocaching adventure lately? Exciting events happening in your geocaching community? Taken a great photo? We would love to hear all about it!

Please email our newsletter editor at
We are always on the lookout for photos from events or cool caches, as well as any fun, interesting, unusual or exciting geocaching stories to share with the geocaching community. If you want to share yours, send it to us by emailing it to our newsletter writers.