We hope you enjoy celebrating Pi Day on 14 March!
From the Desk of the Chairman
By now you've navigated Signal back to HQ and if not, there's still some time but why not make an event out of it? In all seriousness, I've been excitedly following the events and CITOs happening around the country and thank you for the. As avid readers may be aware, it's been one of my goals to have a number of CITOs around the country this year and we appear to be on track for that. In continuing with the goals I set for GOSA, I'd also love a day of events in every province…and well, what better day than Blue Switch Day. Since it's on a Tuesday, we're just waiting on HQ to give a little detail if there will be a souvenir and how that would work buuuut keep that in the back of your minds in the meantime.

I've done a bit of homework and tracked the events in South Africa over the years. It's been interesting:
You'll see that while CITOs peaked at 41 in 2016, regular events continued to grow until 2019 peaking at 377. I have no doubt that the trend would have continued upward had we not been locked down especially since with only half the year, in 2020, we still managed a national 152 events.
I also realized that despite the first event in the country taking place in 2002 (GC3687), it took nearly 3 more years before we got the next one (GCM84V) which looked like a ton of fun and nearly pushed GC2NWVT out of the top spot of events I wish I had attended.

The point is that we had some awesome events, and not only would we love to have more but it would be grand if we could hear your stories of events from yesteryear that were fantastic so if you have nostalgic memories, please send them our way…all the better if they come with photos.
There are names on those logs I've never seen before and that means there are stories we've probably lost. It's important to me that the caching community doesn't lose the tales of glorious road trips, amazing spots and interesting encounters.



A Tribute to Zebra Patrol


On 7 February 2022 the KZN geocaching community lost a fellow cacher – Michael Gill aka Zebra Patrol lost his short battle with cancer. GoSA would like to express their heartfelt condolences to Cheryl, Mike (Indlovu Scouts) & Tammy, Emma (IS Fairy) & Paige (IS Pixie), Ashley & Melanie, Drake & Seth, as well as all of Michael's geocaching friends.





Michael, or Mike as we all called him & Uncle Mike to Eagle Eyed, Geocaching Genie and Ninja Nano (Marius, Declan and Cayden) was never without a smile. He was always keen for a geocaching adventure and was a regular at our events and citos. Mike always had time for a chat with our boys and loved to hear any stories they had to tell him, especially when they were in cubs and scouts.

A passionate camper Mike often had tales to tell us of his and Cheryl's adventures with their infamous land rover!

One of our favourite memories of Mike was from a good few years back when we were geocaching in one of the nature reserves in KZN. Ninja Nano, who was about 4 at the time, developed a severe allergy to hills and did not want to go a step further – no problem to Mike he dug in his geocaching backpack, threw out an imaginary tow rope to Cayden and proceeded to patiently and encouragingly "tow" him up every one of the many hills we walked up that day.

One of the last conversations that we had with Mike was when he phoned us on 31 December to apologise that he would not be able to make it to our year end event that day, he was in pain and not having a great day but was more concerned about not making it to the event. That was Mike – always concerned about other people.

He will be remembered by our family as being kind, funny, cheerful and our friend. Mike you may be gone but you will not be forgotten! To all the family but especially Cheryl, Tam, Mike, Emma & Paige we send our love and prayers for your comfort. With much love Ceinwen and Mark (M²C²D)

Zebra Patrol, Waldo and I spent many hours caching together. Michael had great faith in his Garmin, often going straight to the cache, while Bryan and I would still be walking this way and that, following directions from our cellphones. What really gave ZP the greatest pleasure, was placing caches. The trail that we placed in the Midlands was particularly enjoyable. Even knowing that we would have to travel quite far to do Maintenance runs, he was still keen; to go and enjoy the scenery, birdlife and countryside. Lunch would be a civilised affair, with a small table, stools (never just eat from the boot of the car!). And Michael would have bought fresh white bread and roast chicken to have delicious sandwiches with his favourite mayo


He shared knowledge, particularly about birds, in a way that showed his passion, and made you want to learn more too. He also endured my driving with patience, teaching me how to drive through mud, cross streams, get through potholes without destroying the wheels….and always to show courtesy to other road users. Michael's family was always first in his life, but he also appreciated his geocaching family. Will miss you ZP
Fawny (fawny)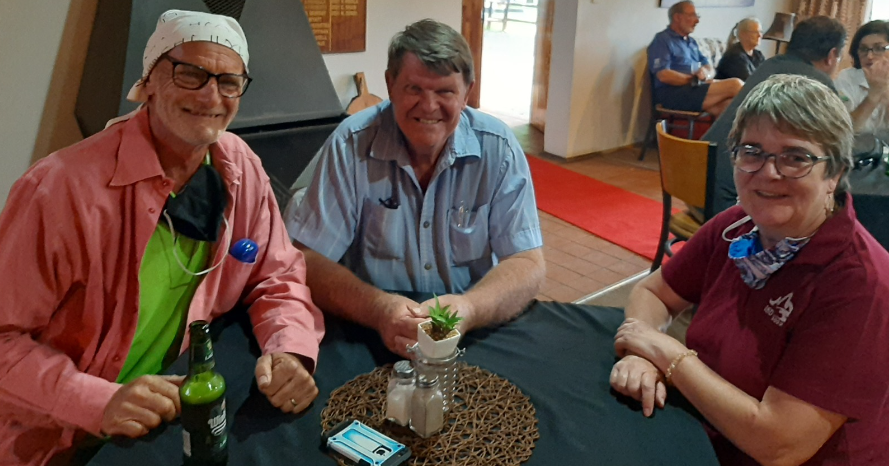 Zebra Patrol crossed over from the path of Life to the afterlife on Tuesday 7th February 2023. Whilst death is an inevitable of life, his passing prompted me to consider what he had left in my world. And the more I mused on his presence, the more I became indebted to his remembrance.

I don't know quite when I had met him, as he was always present. Perhaps his outdoorsy attitude drew him into Geocaching long before me; in any event his khaki clothing is embroidered upon the fabric of my early Geocaching memories. An unknown constant signaling a beacon of consistency. As persistence grew and participants few, I was drawn to his company at an event or two, or a collective conquest of a nature reserve or jaunt into a suburb anew.

And now I understand among the few how his subtle influence rewarded my life without turning it askew. His unquestioning reversal after a faulty left-hand turn, his continued search for a placement that was long gone; the joy he showed whist munching homemade burgers aside some district road, his endless tales of Land Rover trips gone bad.

Indeed, there is not one among us who cannot refute seeing his beaming smile in the shadow of his bos kappie, popping up everywhere yet never being in focus. A stalwart of the game and support for all of us as we strive to be the same.

He may be gone, but what he was will be with us again and again. Bryan (WÅLDO)


The first time I met Mike was bundu bashing on an off road track near beach bums, close to Westbrook.. but while I was bouncing along in my Jimny, Mike was up ahead in his sedan. We found what we thought was the cache only to find the word "decoy" on the log sheet. Despite the frustration, it was laughs all around.

ManKub always had the giggles when Mike played with him at the BCF events pretending to eat his food with the imaginary elephant he could fashion with his hand.

A true gentleman of the game, Zebra Patrol, you will be sorely missed. May God bless you and your family. WayDom, ManKub and the Ladybugg


"What is lovely never dies but passes on into another loveliness like stardust, sea foam, blooming flowers or a bird soaring high in the sky!"

Mike will always be remembered as a great friend, a keen Cacher, a true and honest person with the greatest smile.
We have been Caching Buddies since 2017 when we moved to Ballito. We will remember all the times we enjoyed together at some great camping and caching adventures.

First being ABC series in Pietermaritzburg where Mike took us to a remote peaceful farm where we were the only campers. NGM event in Midlands Mike took us camping in a lovely area on the Mooi River bank for the Meander Event. He also camping trip to Karridene Caravan Park, South Coast.

Mike taught us a lot about the KZN caching and camping culture. Always have the tools of the trade. (TOTT) when going on caching and camping trips. Included but not limited too expandible magnetic grabber, torch, pocket - knife always at the ready on the hip belt/pocket and expandible telescopic ladder (HED) always packed even in the small Toyota, to tackle the caches placed high on poles, signs and to assist with the tree caches requiring climbing. If the ladder could not reach, that was it! no further climbing! We would call MIKE the "Ladder Man".

We only learnt later that Mike was a passionate scouting member when he taught us how to estimate distance and hight on our trail walks with no GPS. More great memories of many and various KZN Caching events we attended together, the Bunny Chow`s, CITO, Community Events and a MEGA in JHB were very special and will be remembered and treasured always.

To Cheryl and family may our deepest sympathies help to pacify your bereaved hearts. RIP Mike, you will be remembered and dearly missed by all of us in the geocaching community. Al & Gerty Weir (Desertal and Weirty)

Michael Gill…..a gentle giant, is how I would describe him…We shared a passion for the outdoors and that's how I met him, and I can't believe our friendship is 10 years old, it feels very recent- time flies when you're having fun.

Mike was people orientated, always asking about you, the family, how things were going and your opinion on something. Yes, he did share, but most of the time it was not about himself, but his family, Cheryl, Tammy, Ashley and the grand kids.

What I didn't know about Mike, was that he had earned his Springbok Scout Award in the 1960's. He was involved in the Scout Movement at 1st Glen Ashley Journeys Scout Troop for many years. He also served at district and regional level, including training adults. With Mike's guidance Ashley also earned his Springbok Scout award and Tammy earned the highest Girl Guide Diamond award and Chief Challenge. Emma, Mike's eldest granddaughter, is currently working on her Leaping Wolf, the highest award a cub can earn.

Thinking back, on my Scout Wood badge Adult Leadership Course, I met a young man by the name of Mike Steveni. Great, another Mike! Mike Steveni turned out to be Mike Gills son in law. It is through Mike that I met Mike. Being big scouting buddies, I introduced Mike Steveni to Geocaching and this is how Mike Gill got started in geocaching, using his old troop name Zebra patrol.

The important part is not how or when we met, but the truth is that he played a significant role in my and my children's lives, I am a richer person for having known him. We salute you Mike and may this ring of rocks be a reminder that you have been a good and faithful servant, of a life well lived, and that you've gone home. Yours in Scouting and in Geocaching – Greg, Condor, (THE_Bateleur)
Join us on TikTok, Submit your videos today!


We're thrilled to announce that we're starting a brand new TikTok account! Our team has been hard at work brainstorming creative content and ideas to showcase geocaching in South Africa and engage with our community.

But we know that the true magic of TikTok lies in its interesting content, and that's why we want to hear from you. We're calling on all our fellow cachers to submit their own videos for a chance to be featured on our TikTok page.

Whether you're a park and grabber, an earth Cacher, a puzzle solver or a lover of the high D/T ratings, we want to see what you've got! Show us your favourite caches, your funniest moments, and all your caching adventures.

Here's how to submit your video:
Follow us on TikTok (@geocachersofsouthafrica)
Record and upload your video to your own TikTok account.
Tag us (@geocachersofsouthafrica) in your video description.
Use the hashtag #geocachersofsouthafrica #GOSA #GOSAZA in your video description

We'll be reviewing all submissions and featuring the best ones on our TikTok page. Plus, we'll be giving shoutouts to the creators of our favourite videos, so don't forget to include your handle in the video description!
We can't wait to see what you come up with. Let's make some TikTok magic together!
Because sometimes, for some people, it is about the numbers… Here is a summary of South African Geocaching activity for January:

1,182 Cachers found a total of 5,168 caches during January.
44 Cachers placed 120 new caches during January.
The number of Cachers who found at least 1 SA cache in the previous 12 months is 8,421.
The number of Cachers who placed at least 1 SA cache in the previous 12 months is 213.
The total number of active South African caches at the end of January is 15,695.

Note: All the above statistics include all South African caches on the geocaching.com database, which doesn't include Adventure Labs.
iPajero's once in a lifetime holiday & geocaching adventure
part 2
By
iPajero
The next leg of our holiday was a thirteen day bus tour of the Canadian Rockies. The mountains, lakes, canyons, glaciers, rivers and wildlife sightings were so numerous we will only comment on a few, but there were just so many we could mention. This tour will be remembered for a long time and cherished forever.


Day one was a tour of Vancouver, the first stop being Queen Elizabeth Park while finding our first cache - Beyond the Totems GC4YMBJ, we met another geocaching couple Busy Lissy Bunch from Brittan, being on the same tour. The rest of the day was spent exploring Granville Island and finding caches.


Day two was spent driving to Kelowna stopping at Summerhill Estate Winery for wine tasting.


Day three was spent travelling to Banff National Park. On entering the town there is a massive sign Banff. There is virtual cache here which requires a photograph of you standing in front of the sign - Banff Sign Virtual GC88Z5A. We had to wait in line for our turn for the pic and each time we passed the sign there was a queue waiting their turn.


Day four was spent exploring the area. We opted to take a morning tour to Johnston Canyon which presented great views - Johnston Canyon - Lower Falls GC1BAPY. In the afternoon we took a gondola up Sulphur Mountain to enjoy the great 360-degree views. Then it was a climb up a long board walk to do the virtual cache - Sulphur Mountain GC134E.


Day five was travelling to Jasper National Park. The scenery really became exquisite on our tour now travelling in valleys between the spectacular mountains and over passes. There were now many blue lakes and glaciers on the sides of the mountains. The first lake we stopped at was Lake Louise. It is said to be the most photographed lake in the world! What a sight to behold with the water being blue with a glacier above it on the mountain side! We soon found out why so blue by doing - Why is Lake Louise Colourful? GC6271J. The next lake we stopped at was - Peyto Lake Viewpoint GC32FFX. It's hard to believe how blue theses lakes are!


The next stop was at an amazing waterfall - Athabasca Falls Earth cache GC2BB27. After seeing all the glaciers, we got this incredible experience to travel on a massive Ice Explorer all-terrain vehicle to the Athabasca Glacier, a 10,000-year-old sheet of ice, which you can walk on, feel and drink from the glacier. The day was action packed as we took a raft excursion with unique views of Jasper National Park from the water on a scenic float trip down the Athabasca River with its rapids! The day ended with the cache - Welcome To Jasper YLHDAB GC1JTNW.



Day six was spent exploring sights around Jasper. We were fortunate to get some sightings of wildlife. A brown (grizzly) bear walking down a street near our hotel, caribou grazing on the side of the road, a mountain goat with a kid and a black bear. We took a cruise on Malinge Lake to Spirit Island a very sacred place for the local people - Maligne Lake GC3X9P4. Travelling through the incredible mountains we were able to do the earth cache - Hole in the Wall GC5FNNX. The most impressive outing for the day was a hike down Maligne Canyon with its deep gorge rapids and potholes -Maligne Canyon GC5YZNQ.


Day Seven we travelled to Sun Peaks, a ski resort. Enroute we had a stop at Mont Robson 3954 m in height and the highest peak in the Canadian Rockies. We were fortunate to have a full view of the mountain as it is only cloud free for nine days a year - Mount Robson Viewpoint Conrad Kain GC2ARTR. At the resort we did an ALC cache which had a bonus cache up the ski slope so took a gondola up the mountain - Tour de Sun Peaks Bonus Cache GC8N72M. Spotted three black bears feeding on a ski slope, as well as a deer and had a great view from on top. Not many of the ALCs we did had bonus caches.

Day eight we travelled to the city of Whistler, another ski resort. On arrival we took a 40 minute sea plane flight over the mountains, observing the lakes, craters, glaciers and a dormant volcano from the air. This was an incredible experience so glad we did it. We just had time to fit one cache in while we waited for a dinner seating as it was a long weekend and the city was crowed - Miyazaki House GC1VCYJ.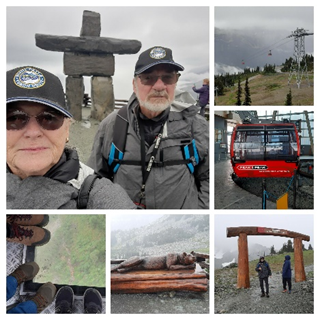 Day nine started with the Whistler Bobsleigh at the top of the list for a must-do activity for Deanna and daughter's partner. This is the world's fastest Bobsleigh track that was used for the 2010 Winter Olympics. In their decent of 53.21 seconds they reached a speed of 91 km per hour. Dad and daughter chose to be spectators.

Unfortunately, the day was rainy, and we could only take the gondola up as far as it went. We had hoped to take a chair lift to the top of the mountain and walk over a gorge on a glass bottom bridge. However, we could do the Peak to Peak gondola in a glass bottom unit, this being quite an experience. In spite of the rain we managed one cache on top of the mountain - RELICS: Whitebark Island GC89KQ7.

Day ten was time to head to Victoria, British Columbia (BC) and one last stop at a water fall. Shannon Falls is composed of a series of cliffs, rising 335 meters above Highways 99 - Shannon Falls GC3QKNE. From there we headed for the BC Ferry to Vancouver Island. This is a huge ferry and we could not believe the number of busses, big transport vehicles, cars and passengers that it could carry. After the ferry crossing we went to the Butchart Gardens, these being by far the best gardens we have ever visited - Butchart Gardens GCAC34. The parliament buildings is a very impressive structure and is lit up with lights at night making it a stunning sight - The Fountains at Parliament - Virtual Reward – GC7B752.


Day eleven was our final day on Vancouver Island and we opted to do the Whale Watching excursion and what an experience this turned out to be! We were privileged to see three pods of Orcas (killer whales) the one had eight whales, a family unit which we watched and follow for a long time as they surfed through the water. What an unforgettable sight to cherish. We did a cache that reminded us of the good weather we had enjoyed on the five week trip with only two rainy days - I Never Promised you... only the Sunny Hours GC1HKJR. This was our last night on this tour so we joined the group for a farewell dinner and also our last cache on the island just outside the dinner venue - Signs of Lekwungen - Virtual Reward 3.0 GC9P62K.

Day twelve saw us taking the ferry back to Vancouver and a flight to Toronto. So ended our bus tour of the Canadian Rockies that more than lived up to our expectations.

From Toronto we drove to Niagara. We cannot describe the wonderful views we had of the falls from our hotel window, with both The American Falls and the Horseshoe Falls. At night they are lit up with changing colourful lights and at 10 pm we witnessed a spectacular fireworks display on both nights we were there. These falls are just as spectacular if not better than the Victoria Falls - Niagara Falls Virtual GCABA1.


We took many excursions to explore the falls and surrounds including a boat trip just below the falls into the mist as the mighty waters tumbled over the falls and could observe the erosion that has taken place - Falls Erosion GC5G8XQ. We also walked the tunnels behind the falls - Journey Behind the falls GC8BTNR. It is incredible to see the volume of water flowing below the falls - Niagara Rapids GC7Z3A9. Finally, it was on to the whirlpool which we viewed from overhead in a cable car - Niagara Whirlpool EarthCache GCN6M2.

It was time to head back to Atlanta after our five week incredible trip. We are deeply indebted to our daughter, Janice and her partner, Tino for arranging and taking us on this once in a lifetime trip; something we could only have dreamed about.


Before returning home to South Africa we drove to Florida, Brooksville area to visit Deanna's sister and husband for ten days and once again we were able to do many caches. Coming from South Africa we noticed a giraffe geo-art series made up of 90 caches. Having solved the puzzles we set out to find the caches. Unfortunately, quite a few were missing and could only find 76 of them, starting the series with - 01 Giraffe GC70YFH. There are many series in Georgia placed around 2015 but due to a lack of maintenance we DNF'd quite a few. One of the best ALCs we did was in Brooksville, which took one to beautiful well-painted murals that covered entire walls on buildings - AL5QLR Brooksville: Historical Perspective through Murals. We visited many memorial cemeteries in the USA to find all of them kept in pristine condition. SA could take a leaf out of their books - Bring Flowers GCGDXH.



Back in Atlanta we were so close to a significant milestone, so we just had to do some more caches to get there. We chose to go for gold and celebrate our 25 000 cache logging on this cache - Futile February Jasmer Challenge – GOLD GC88CE8.

Then, finally being huge fans of Survivor we could not resist doing the geo-art series Survivor based on the TV Series. We are pleased to say we overcame all the challenges being attacked by a nest of yellow jackets (similar to our paper wasp) receiving many stings, counting over eighty chigger bites on Norman and being bitten by swarms of mosquitoes. We were able to find all 45 caches and celebrated at the final tribal council Survivor Geo Art #01 - Sole Survivor GC5Y860.

We are safely at home with many pictures and bring with us some wonderful memories of a perfect holiday. We hope you have enjoyed a virtual tour with us.
New Souvenir: Signals Labyrinth #6 Dragon's Lair

A quick summary of how this souvenir series works:
A total of twelve souvenirs over 6 labyrinths are up for grabs from 4 April 2022 – 3 April 2023.
Earn leader board points over a two-month period to qualify for two new souvenirs per two-month period.
Escape all 6 labyrinths, earn all twelve souvenirs and you will also earn a meta souvenir.
Earn 50 points for the first souvenir and 500 points for the second souvenir in each labyrinth.
There will be a mystery item in each labyrinth that if found will earn you bonus points.
The final challenge is upon us - help Signal escape, the Dragon's Lair! Find the ham, the dragon's favourite food along the way to earn yourself bonus points. Remember that if you've earned all the previous souvenirs then you will also earn a bonus souvenir once you've completed this challenge. Points breakdown:
CITO Season 1
For all the newbies out there let's explain what a CITO is. This is your chance to give back to the environment! It can be in the form of cleaning up your local park, removing alien vegetation, picking up litter on the beach, etc. and for this GCHQ rewards us with a digital souvenir.
Our GoSA chairman has challenged the South African community to host 20 CITOs during the period Nov 2022 to Oct 2023. So far, nationally, we have had XXX with XXX province leading the way! So, this is an official challenge to all cachers in South Africa – please chat to your community and arrange to host at least one event in your province this CITO season. Oh, and please send us some pics
Current Souvenirs


Souvenirs are virtual pieces of art that you can earn, discover, and display on your profile page. They are associated with a particular location, task, find or event and may also be bound by time.

The souvenirs that are currently up for grabs are listed and pictured below:


They are your local go-to people, so keep their details for future reference

| | | |
| --- | --- | --- |
| Eastern Cape | FireflyAfrica (Jonker Fourie) | 082 889 2459 |
| Free State | Uncle Chem (Richard Chemaly) | 072 431 7131 |
| Gauteng | Leon St (Leon Stoop) | 071 330 8435 |
| KwaZulu-Natal | M²C²D (Mark & Ceinwen Oosthuizen) | M 083 324 6176 C 083 324 2167 |
| Limpopo | Boats007 (Willem Botha) | 082 463 3700 |
| Mpumalanga | Bouts777 (Gerhard Botha) | 082 876 3572 |
| North-West | Team Tip Top (Hansie & Zaneta Van Huyssteen) | H 082 753 8082 Z 083 258 5926 |
| Western & Northern Cape | SKATTIE@1 (Elize Louw) | 074 138 6360 |
We are always on the lookout for photos from events or cool caches, as well as any fun, interesting, unusual or exciting geocaching stories to share with the geocaching community. If you want to share yours, send it to us by emailing it to our newsletter writers.